MOBILE APP SECURITY
THAT POWERS TRUSTED DIGITAL SERVICES GLOBALLY
Built on top of V-Key's patented V-OS Virtual Secure Element as the security foundation, V-OS App Protection adds another layer of tamper protection and security enhancements.
V-OS App Protection was created as a versatile solution to ensure both security and convenience to enterprise end-users.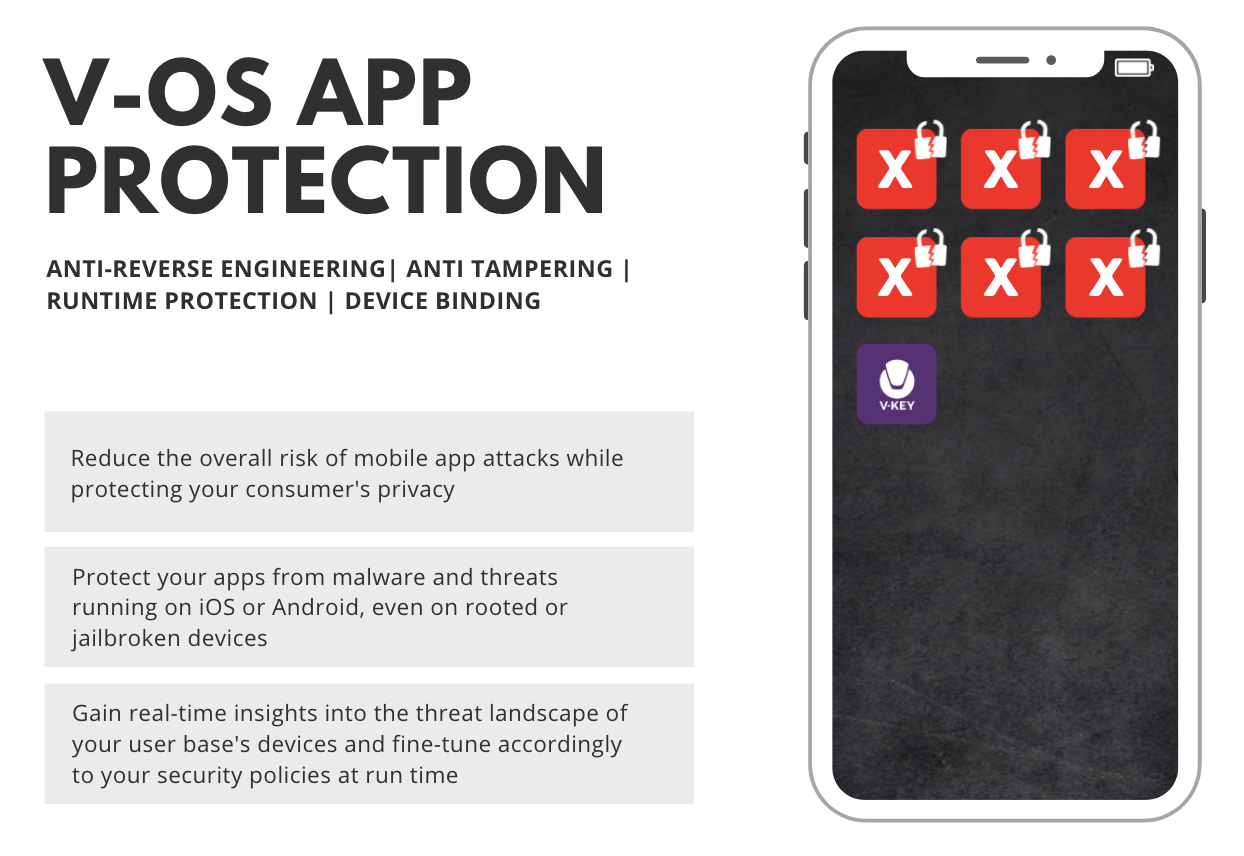 MULTI-LAYERED SECURITY FOR POTENTIAL RISKS
True cybersecurity should be based on the synergy of various protection techniques and that is how V-OS App protection has been architected. With V-OS Virtual secure element at the core, individual layers of V-OS App protection focus on detecting and capturing specific attack vectors and these layers work together to eliminate potential risks.
CUSTOMIZABLE THREAT RESPONSES
V-OS App Protection allows configurable options for various threat categories as to how SDK should react to the threats upon detection. All such options can be dynamically updated over the air as well.
SIMPLE, POWERFUL, INTELLIGENT ADMIN DASHBOARDS
App Protection SDK securing mobile applications feeds intelligence into the V-OS App Protection Server (APS), allowing one to quickly identify latest threats your mobile app may be facing. The V-OS APS is able to generate compliance reports and verify the effectiveness of your current mobile security strategy. V-OS APS also helps to push down critical security configurations and updates to App Protection SDK, allowing enterprises to seamlessly maintain upto date mobile security policies for their apps.
Traditional tamper-protection relies on techniques such as code obfuscation, white-box cryptography, and anti-tampering / anti-debugging mechanisms. Built on top of V-OS Virtual secure element, V-OS App Protection tightly integrates these best-of-breed techniques into the V-OS virtual machine to create a threat-aware protection system.
CONTROL USAGE OF APPLICATIONS
Geo and time fencing configurations can be done via V-OS App Protection server allowing enterprises to limit app use to certain geographies and time windows.
Common Criteria EAL3+ certified, FIPS 140-2 Validated and accredited by Infocomm Media Development Authority (IMDA).
Download the datasheet