SHANGHAI, CHINA: Leading financial payment provider China Payment and Remittance Service Co., Ltd. ("ChinaPnR") formed a strategic partnership with international pioneer in mobile security and cryptographic technology, V-Key Inc. ("V-Key").

At the same time, the latest version of the "ChinaPnR POS Acquirer" mobile client application, integrated with V-Key's security technology, has officially gone live in various Android app stores. This signifies that ChinaPnR and V-Key will collaborate and jointly provide trustworthy security assurance to over a million small and medium sized merchants.

ChinaPnR launched the Point of Sale (POS) payment acquisition query platform "ChinaPnR POS Acquirer" on mobile platforms in June 2013, the first of its kind in China dedicated to providing professional and convenient payment acquisition and management services to small and medium-sized merchants.

In early 2014, the "ChinaPnR POS Acquirer" mobile client went through an overall upgrade to provide merchants with a new financial service "ChinaPnR Interest Generator". With the upgraded version, merchants would not only be able to view daily transaction balances, conduct real-time settlements, communicate with customer service, but could also carry out idle fund investment and management. As a result, merchants are provided with a more holistic mobile payment management experience.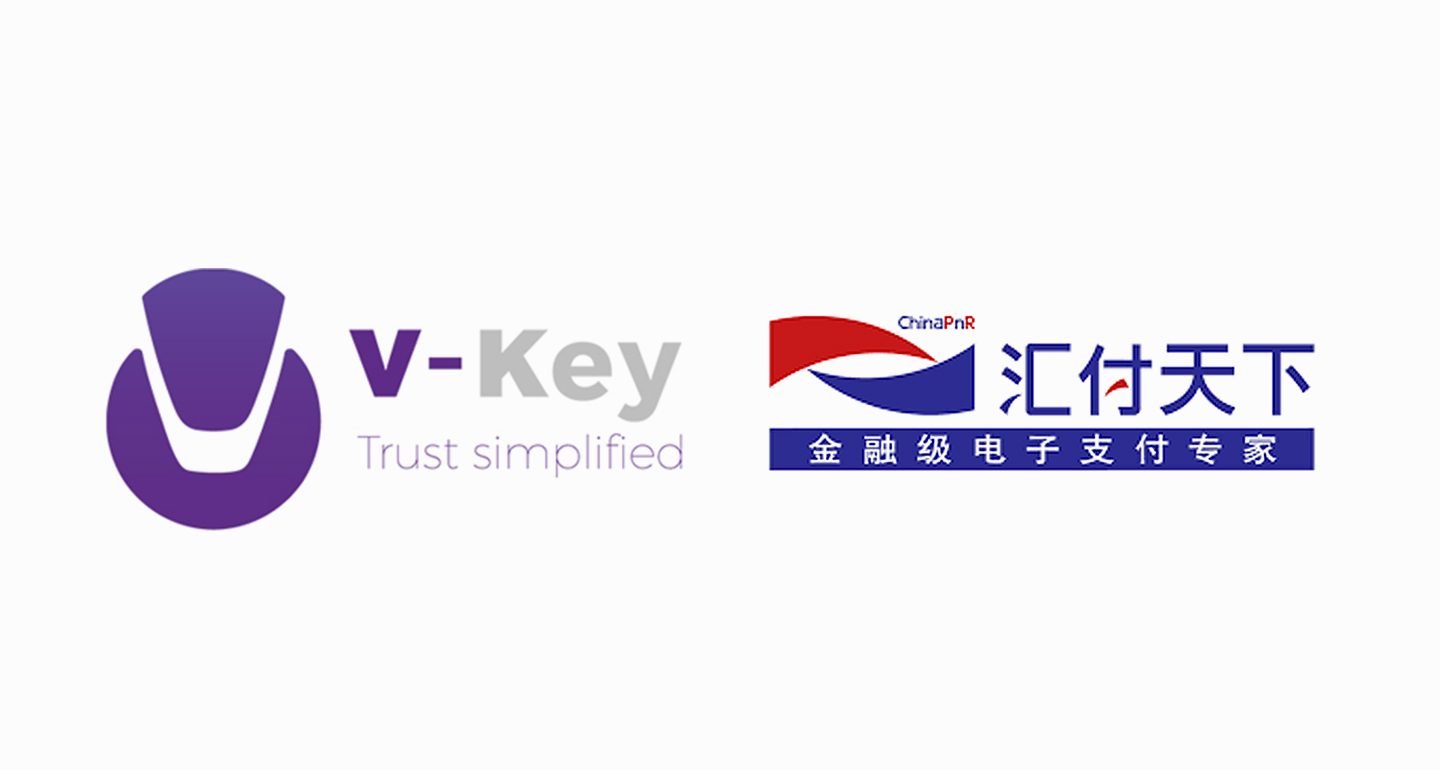 A few days ago a newly upgraded version of "ChinaPnR POS Acquirer" mobile client was released. Among other changes, the new application is integrated with V-Key's world leading mobile security technology, providing reliable security assurance to end-users. "It leverages on V-Key's unique virtual secure element coupled with the latest mobile intrusion detection and protection mechanisms based on combinational heuristic algorithms. With independent control component and trustworthy cryptographic processing, mobile malwares such as Trojan or keyloggers will not be able to intercept or tamper with sensitive user input; at the same time sensitive data would be encrypted, rendering it immune to information leakage or data theft, thus ensuring a 360-degree comprehensive security protection for end-users' information.". Patrick Lin, CIO of ChinaPnR further commented that with the use of V-Track, part of the V-Key Mobile Application Security Management suite, all malicious threats would be monitored and collated, based on which the detection and protection mechanisms of V-Guard could thus be continuously optimized and updated so as to achieve even more robust and thorough security capabilities in the long run.
Mr. Benjamin Mah, CEO of V-Key, says "After a stringent evaluation by ChinaPnR on various solutions in the market, we are very pleased to be selected to protect their mobile applications. As described by ChinaPnR, V-Key technology leverages on our unique virtual secure element and cryptographic engine to provide comprehensive protection mechanisms safeguarding mobile applications' runtime environment, program logic and important data. With this partnership established between V-Key and ChinaPnR, leaders in their respective fields, I believe ChinaPnR would soar to even greater heights as the leader in the mobile economy, we shall define the next-generation mobile security standards together."
For any enterprise and user, any sensitive information such as critical transactions and data handled by mobile applications are of paramount importance. Among various recent attacks reported globally, customized malicious applications and automated attack agents targeting mobile devices showed the fastest growth. In particular for the over one million small and medium sized merchants using ChinaPnR's services, it is crucial to be able to defend against external cyber threats while enjoying the convenience to manage their wealth. Through the strategic partnership with V-Key, ChinaPnR has managed to turn the "ChinaPnR POS Acquirer" mobile client into a threat-aware and tamper resistant intelligent application, effectively helping these merchants achieve both objectives.
About CHINAPNR CO. LTD. 
ChinaPnR was founded in July 2006 by senior management personnel from the China financial industry. Headquartered in Shanghai, it has branches in more than 30 cities across China, and in 2013 achieved more than 1 trillion Yuan as the third largest third party payment provider in China. ChinaPnR is a founding member of the Payment & Clearing Association of China, with Payment Business License issued by the People's Bank of China, Online Fund Sales Payment and Settlement Permit approved by the China Securities Regulatory Commission, as well as Cross-border Payment Business License awarded by the State Administration of Foreign Exchange.
At present, ChinaPnR provides comprehensive financial payment services to more than one million medium and small enterprises, 95% of domestic commercial banks, and hundreds of leading P2P companies; as well as one-stop financial platform for 2 million investors and financial advisers. Its industry partners cover the airline, hotel, logistics, education and many others.
For more information, please visit www.chinapnr.com