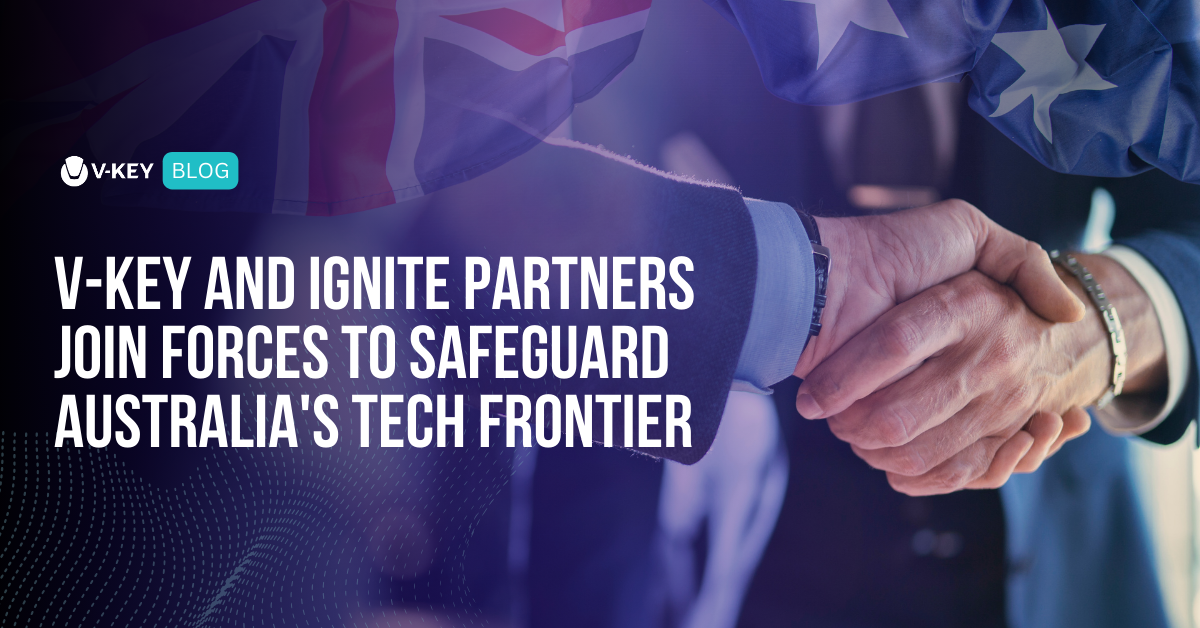 In a significant strategic development, V-Key, a leading provider of advanced mobile security solutions, has formed a powerful alliance with Ignite Partners, a highly respected consultancy firm known for its expertise in helping over 600 international companies successfully enter and expand their operations in Australia and New Zealand. As part of this collaboration, Ignite Partners has appointed two seasoned professionals, David Eccles and Ray Fleming, both with extensive experience in sales, management, and business development, to lead V-Key's expansion into the Australian market. This announcement marks a pivotal moment for V-Key as it aims to secure Australia's digital landscape and contribute to the nation's growing digital economy. 
The primary goal of the partnership between V-Key and Ignite Partners is to bolster the security of Australia's rapidly evolving digital landscape. In a period marked by the exponential growth of digitalisation, the Australian economy's reliance on technology has surged. This digital transformation, while empowering, has also introduced a range of risks, including the growing threats of cyberattacks and data breaches. V-Key is uniquely positioned to address these challenges by providing robust safeguards that resonate with both businesses and consumers. 
The importance of securing this digital frontier cannot be overstated. Australia's digital economy plays a crucial role in fostering economic growth, driving innovation, and enhancing the nation's global competitiveness. Beyond safeguarding sensitive data, a secure digital environment fosters trust and confidence in the digital services and products that have become integral to modern business operations and daily life. 
V-Key's collaboration with Ignite Partners underscores a shared commitment to fortify Australia's digital economy through cutting-edge security solutions. This strategic partnership signifies their dedication to creating a safer, more secure digital landscape where the threat of cyberattacks is 
minimized, and data privacy is upheld to inspire confidence among both businesses and consumers. 
Furthermore, V-Key's active engagement with Fintech Australia, a prominent industry association dedicated to representing the fintech ecosystem within the nation, underscores its unwavering commitment to fostering innovation and promoting growth within the fintech sector. The synergy between V-Key and Ignite Partners aligns harmoniously with the goals of Fintech Australia, ultimately cultivating an ecosystem where fintech enterprises can thrive, innovate, and contribute meaningfully to the broader digital economy. 
This partnership promises to not only safeguard businesses and consumers but also to propel Australia's digital economy into a more secure and prosperous future. 
ABOUT V-KEY 
V-Key is a software-based digital security company whose technology powers security solutions that deliver the highest level of defense and control for digital identity, user authentication, access and authorisation without compromising user experience. It is trusted by government, banking and mega-app clients across the region to connect people, organizations, and devices everywhere by securing the global digital economy. 
At the heart of V-Key's product suite is its internationally patented V-OS, the world's first Virtual Secure Element whose advances cryptographic and cybersecurity protections comply with standards (EAL 3+ rating and FIPS 140-2) previously reserved only for expensive hardware solutions. 
Feel free to reach out to Dave Eccles via email at dave.eccles@v-key.com and Ray Fleming at ray.fleming@v-key.com for further information regarding V-Key and its products.